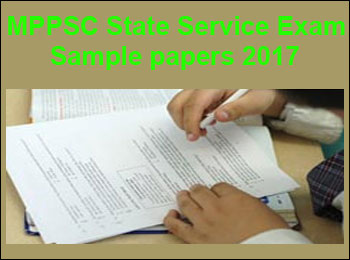 MPPSC State Service Exam Sample Papers 2017: Madhya Pradesh public Service Commission has announced recruitment through State Service Exam 2017. A large number of candidates have applied and will appear for the preliminary exam on February 10, 2017. The candidates are neck deep with study material to prepare for the exam and will require MPPSC State Services Exam Sample Papers for practice. Sample Papers will help the candidates to practice all the topics that they have studied. Candidates will be able to get a quick idea about the exam pattern, type of questions by solving MPPSC State Service Exam Sample Papers 2017. Sample or practice papers are available in two modes i.e. on-line and off line. The features of both the modes have been explained in this writeup. Candidates can also download sample papers from the links given below.
Read all details and download requisite MPPSC State Service Exam Sample Papers 2017 from this article.
Practice Unlimited Tests and get detailed Analysis.
View Details
Modes of MPPSC State Service Exam Sample Papers 2017
Sample/Practice Papers for any examination are available in two modes, online and offline. Candidates can use both the modes to practice and enhance their preparation for the examination. Read details and acute features of both modes of sample papers as explained below.
Parameters
Remarks
Format

Online: Mouse and Keyboard
Offline: Pen and Paper

Performance Graph

Online: Since it is completely online, candidates will be able to check their graph of performance as maintained by online tools
Offline: Candidates will have to maintain and evaluate their own performance over a period of time.

Nature
of Assessment

Online: Candidates need not self assess. After completion of exam candidates will be able to check their performance evaluation.
Offline: Manual assessment by candidates is required. At the end of exam candidates will have to check their performance and evaluate it as per the marking scheme

Time Constraint

Online: Candidates have time constraint set with the online sample papers. They will have to solve the complete paper in the given time limit.
Offline: There is no time limit set. Candidates may or may not maintain an exam like environment with fixed time bonds.


Practice Schedule

Online: Candidates should solve the online papers twice a week.
Offline: The frequency to solve the offline sample papers should be set to daily.

Method of Use

Online: After completion of syllabus, buy the package and solve over the remaining days for the exam.
Offline: Solve as you prepare for the topics and leave previous year papers for the last few days.


Nature of availability

Online: Available over Internet in the form online test series.
Offline: These papers are available in the form of books and practice bundles from bookshops. Also candidate can access them as pdf files available here.


Level of Difficulty

Online: Candidates who are an advanced level of preparation should solve online sample papers.
Offline: Candidates can begin their practice with the offline sample papers at the base level of their preparation.
How to download MPPSC State Service Exam Sample Papers 2017 ?
Different sets of Sample Papers for MPPSC State Service Exam 2017 have been made available here for all the candidates. The candidates can use the links given against them to download a copy of each sample papers as presented here. Check the procedure to download and use the sample papers as explained below.
Candidates can click on the links given below on this page.
Upon clicking they will be redirected to a new page with the marked pdf file of the sample paper.
Click on the download button provided at the corner on the new page.
Follow the above explained procedure for all the requisite sample papers.
After candidates have downloaded all the required sample papers, they can either take a print out or use the copy directly from their computer to practice.
Procedure to solve MPPSC State Service Exam Sample Papers 2017
Read the method and way to know the correct procedure on how to go about solving the sample papers.
Candidates should first complete the whole syllabus or at least one topic before they attempt to solve questions based on that.
Candidates should not skip the important instructions provided as guideline the beginning of the question paper.
It is advisable to create an exam like environment which will help the candidates accustomed to the exam mode.
Candidates should not check the answers before attempting all the questions. They should aim to work hard and gain the maximum preparation.