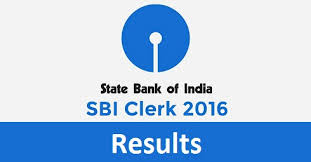 State Bank of India (SBI) will release the Result of SBI Clerk Mains 2016 in the first week of August 2016. The exam of which was held on June 25 & 26 2016. The Result of SBI Clerk Mains 2016 will be hosted on this page. The candidates who have appeared for the Mains Examination of SBI Clerk can check here for the Result.
Important points related to SBI Clerk Mains 2016 Result
The candidates will have to qualify in each section by securing passing marks to be decided by the Bank.
The passing marks in each of the tests will be decided by the Bank on the basis of the performance of all the competing candidates taken together in each test to a minimum required level.
Candidates are also required to score a minimum percentage marks on aggregate. The minimum percentage marks will be decided by the bank.
The qualified candidates of the Main Examination will be placed according to their marks in descending order in respective categories.
Depending upon the number of vacancies only certain number of candidates who have qualified high enough in the merit list will be called for Interview.
The candidates in the Interview will have to score a minimum percentage marks for final selection.
Interview Call Letter of SBI Clerk 2016: Eligible candidates will be issued Interview Call Letters after the declaration of result. The exact date will be notified to the candidates later here on this page.
What is the Test of Local or/and official language?
The candidates who have produced 10th Standard mark sheet/certificate showing that they have studies official (local) language will not be subjected to any language test. In case of others, language test will be conducted at the time of Interview/before final selection if in case the interview is not held. Candidates not found to be proficient in language test will be disqualified.
Final Selection of candidates
The Final Selection of candidates will be done on the basis of the marks obtained by the candidates in Main Examination and Interview taken together.