Answer

No solution.
Given

Here given the system of equations

We have to find the number of solutions of given linear equations.
Hint

First we have to check

or not then we check

or not
Solution

Here, we have,

First we check

or not


Again we have to find

where

For


The cofactor of the elements of

are given by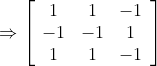 Here,

Hence, the system of equation has no solution.
View full answer