Answer:

Hint: Use Cramer's rule to solve a system of two equations in two variables.
Given:

Solution:
First D: determinant of the coefficient matrix


Now,

. If we are solving for x, the x column is replaced with constant column i.e.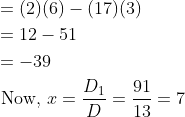 Hence, x = 7 and y=-3
Concept: Cramer's rule for system of two equations.
Note: Cramer's rule will give us unique solution to a system of equations, if it exists. However, if the system has no solution or an infinitive number of solutions that is determinant is zero.
View full answer