Answer:
Hint: Matrix multiplication is only possible, when the number of columns of first matrix is equal to the number of rows of second matrix.
Given:

The matrix given on the RHS of the equation is a

matrix and the one given on the LHS of the equation is

matrix. So, A has to be

matrix.
Now, let


Equating the corresponding elements of the two matrices, we have

...(i)

...(ii)
Now multiply equation i by 2 and subtract equation ii from i

Put value of b=-2 in equation ii we get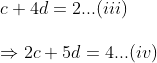 Multiply equation iii by 2 and subtract equation iv from iii


Now, put d=0 in equation iv, we get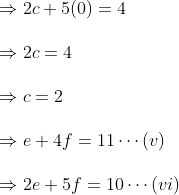 Multiply equation v by 2 and subtract equation vi from v
Thus,

Hence,

View full answer